Adding Photos To Your Posts
The most important thing to know is that ALL of your photos, art, and videos and rights to them belong exclusively to you.
Easiest ways to upload a photo: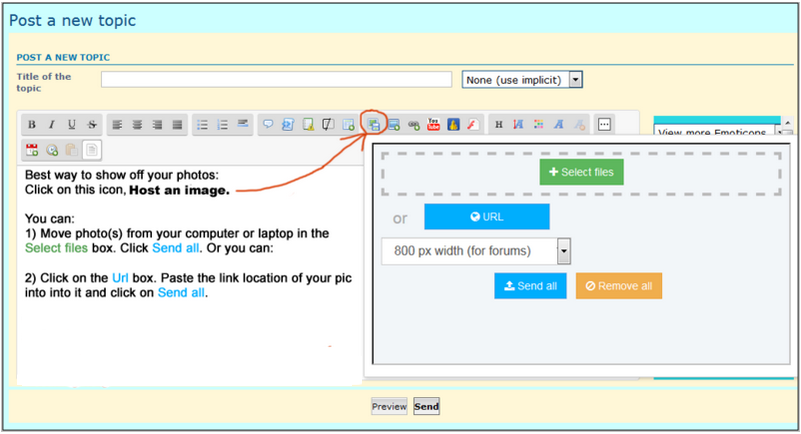 This forum, like all forums hosted by Forumotion.com, uses
Servimg.com
for photo storage. The first time your upload photos using the 'Host An Image' icon, you will get
one
email from them with this message:
They won't bother you ever again after that. Your password, where it says "the board one", is the same pw you use for this forum.  
Extra Info
:
ServImg is a free feature will reduce your risk having the pics disappear that you post here via hotlinking from a photo storage hosting site that decides they can no longer afford to host free accounts. It has happened:
~ In 2016, Imageshack made it necessary to have a premium account to upload images or share links.
~ In 2017, Photobucket stopped free accounts from any image-linking or 3rd party image hosting, and poof! Gone! Free members discovered overnight they'd have to pay nearly $400 to access their photos or have them show up on sites and forums.
~ In April 2018, due to a financial conflict, Postimages.org changed servers, and are now postimg.cc. This broke hotlinks to forums and sites. I personally am a BIG fan of theirs because it's so easy to use, and sincerely hope their new postimg.cc won't have similar problem.
~ In April 2018, SmugMug bought Flickr. While free Flicker accounts are still free and they say there will be no changes in service, the question in a lot of minds is for how long?
To avoid all this photo drama on this forum, strongly consider using the 'Host an image' icon
, especially if you're using a desktop computer.  Drag and drop your photo into the box, click 'send all' and then click 'insert'. It's very easy.
You can also upload photos from your cell phone use the
1)
Tapatalk Mobile App
which is free; I know many members of other forums who love it, or
2)
Topic'it
, another forum-friendly app but I'm not as familiar with it.
If you have any questions, please do not start a new topic.  Instead, use the 'Quick Reply' below.
*******


Similar topics
---
Permissions in this forum:
You
cannot
reply to topics in this forum