Champion Joe II, Corded Poodle by Lucy Waller, circa 1889
"In the AKC Gazette's continuing tradition of sharing notable works of canine art, enjoy this wonderful portrait of corded Poodle Ch. Joe II, painted by Lucy Waller circa 1889.

"Joe II was a great champion on the early British show circuit. In the late 1880s he won at Newport, Norwich, Barn Elms, Warwick, Olympia, Agriculture Hall, and other prestigious venues of his time. (The granddaddy of all British dog shows, Crufts, would not be founded until 1891.) Despite Joe's fame, the corded Poodle coat never really caught on with the British fancy."
 (
link
)
*******
In the 1700s, Jacques-Barthélemy Delamarreby was a French artist. His works mostly consisted of animals, particularly cats and dogs. Like many pre-20th century artist the poodles he painted were parti-colored, usually white and black poodles. (
link
)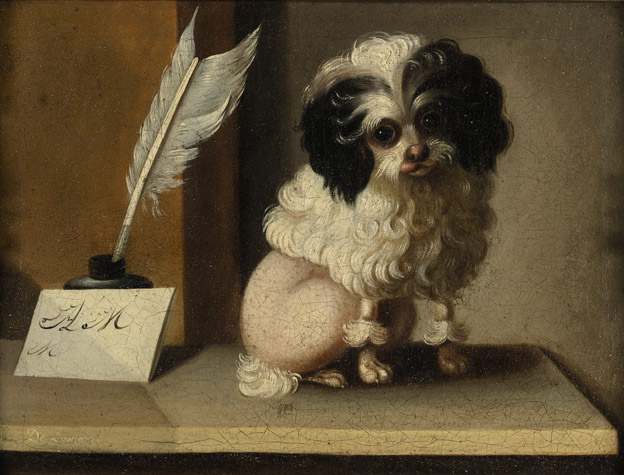 "Poodle on a Writing Desk" by Jacques-Barthélemy Delamarreby.
Oil on Canvas
In similar style to the painting above, Jacques Barthelemy Delamarre completed another French Poodle Painting, in pen and ink and wash on paper, reverse signed "DeLamarre".
Portrait of a Wide-Eyed Poodle, by Jacques-Barthélemy Delamarreby
*******
Pedro portrait of a poodle, by Charles van den Eycken
Charles van den Eycken (1859 – 1923), sometimes known as Duchêne, was a well-known Belgian painter specializing scenes of cats and dogs.
*******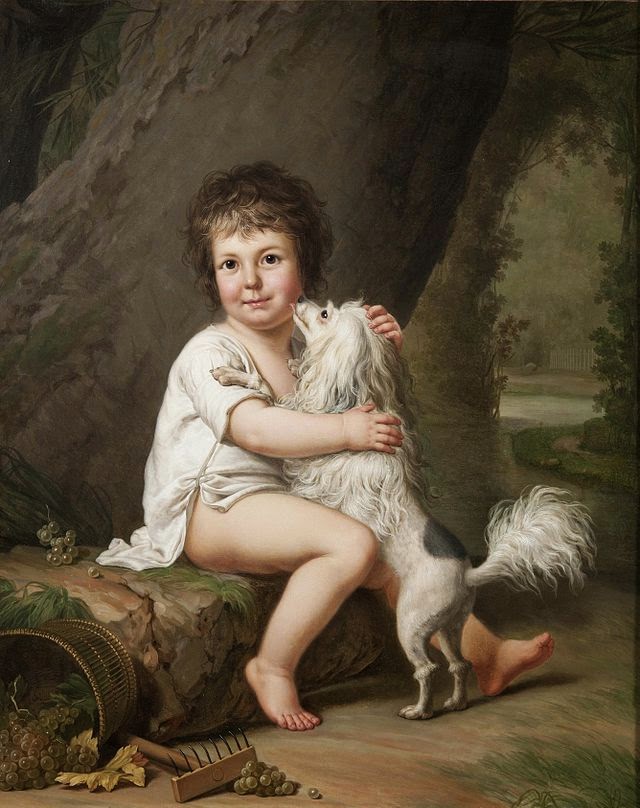 Two-year-old Henri Bertholet-Campan with his dog Aline, by Adolf Ulrik Wertmüller - 1786
While this painting does not explicitly say the dog is a poodle, it distinctly looks like one.
Adolf Ulrik Wertmüller (1751 - 1811) was a Swedish painter whose notable works include
Danaë receiving Jupiter in a Shower of Gold
. Wertmüller was born in Stockholm and studied art at home before moving to Paris in 1772 to study under his cousin. (
link
).
*******
Antonio María Esquivel y Suárez de Urbina (1806 - 1857); Spanish painter in the Romantic style who specialized in portraits.
(link)
*******
James Northcote, (1746-1831), was born in Plymouth, England.  In his spare time as boy, he drew and painted. In 1769 he left his father's work and set up as a portrait painter, and four years later left for London to study art, went briefly to Italy, returned home for awhile, then returned to London. He was elected associate of the Academy in 1786, and full academician in the following spring. He was a prolific portrait artist and also painted several animal subjects.
(link)

Vita

Admin




My dog:

: Bella


Location

: DC


Join date

: 2018-05-01


Posts

: 14





Similar topics
---
Permissions in this forum:
You
cannot
reply to topics in this forum